2GB Corsair 1800MHz DOMINATOR CL7 DDR3 Memory Review
The 1800MHz DOMINATOR CAS latency 7 memory kit was designed to be the ultimate over-clocking DDR3 solution from Corsair and Legit Reviews puts that claim to the test using the latest computer hardware to find the limits of this DDR3 memory kit. Corsair is using the latest memory ICs from Micron and have been able to pull off 7-7-7-20 timings at 1800MHz, which shows the true performance potential of DDR3 memory. Read on to see if this kit is right for you.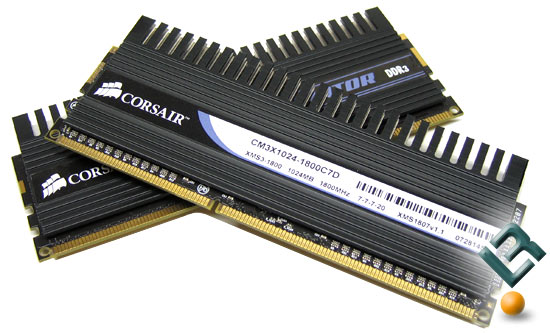 "The Corsair TWIN3X2048-1800C7DF G DDR3 1800MHz CAS 7 DOMINATOR with Airflow Fan memory kit is a dream come true for enthusiasts worldwide as it will eliminate the system memory from being a performance bottleneck on todays cutting edge DDR3 platforms. With the Intel X38 Express chipset coming out sometime in September 2007 one can only hope for even better DDR3 memory performance as Intel originally designed the X38 Express chipset for DDR3 memory..."
Article Title: 2GB Corsair 1800MHz DOMINATOR CL7 DDR3 Memory Review
Article URL: http://legitreviews.com/article/539/1/