Fall IDF 2007 - Intel Skulltrail System Preview
Intel had no less than four fully configured 'SkullTrail' test systems on display during the Intel Developer Forum and while there was a gag order on the performance numbers, Intel allowed Legit Reviews to take all the pictures we wanted of the test systems and the motherboard itself. Read on to see what the future of V8 computing means for gamers and enthusiasts.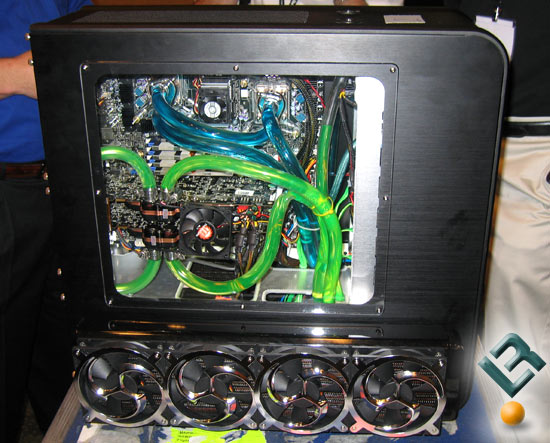 A SkullTrail system like this one is more likely what will be shipping in months to come, but even it has two cooling loops. One cooling loop and 120mmx480mm radiator for the GeForce 8800 series video cards and another cooling loop with a second 120mm x 480mm radiator is on the other side for the two 3.4GHz Harpertown processors that were used on this demo system.

Article Title: Fall IDF 2007 - Intel Skulltrail System Preview
Article URL: http://legitreviews.com/article/568/1/