Fall IDF 2007 - Intel DX38BT 'BoneTrail' Motherboard Preview
Last year I was able to post up the first pictures of the Intel D975XBX2 'Bad Axe 2' motherboard in action and this year I was able to do the same with the Intel DX38BT 'BoneTrail' motherboard. The biggest change in the "Performance" section of the BIOS is no doubt the introduction of "Reference Voltage Override". Read on to see if the Intel DX38BT is worth waiting for!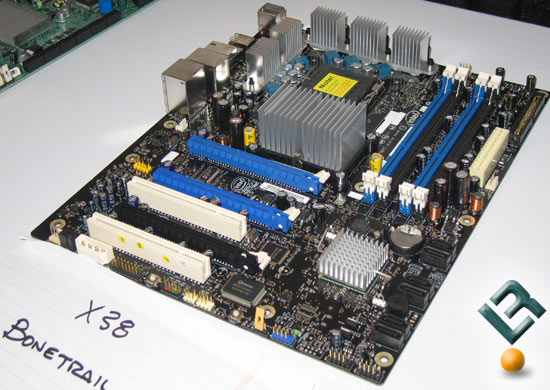 Quote:
One of the other changes between the Intel DX38BT from June and the one from September is that the Intel legal depart changed the logo of the Intel DX38BT BoneTrail as it was deemed not the right direction for the company. If you look at the above left image you will notice that the board originally had skull and crossbones, which might have looked too much like standard toxic symbol even though the board and upcoming 45nm processors are totally lead free. Current 65nm Intel processors have lead in the C4 bumps, so the Intel 45nm processors will be the first lead free processors from both AMD and Intel. The new logo is a high tech looking skull with of course, the latest Intel logo inside.
Article TItle: Intel DX38BT 'BoneTrail' Motherboard Preview
Article URL: http://legitreviews.com/article/566/1/