OCZ DDR3 PC3-12800 2GB 1600MHz Memory Kit Review
The OCZ DDR3 PC3-12800 Platinum Dual Channel Enhanced Bandwidth Edition 2GB memory kit is built for enthusiasts and Legit Reviews pushes it to the breaking point to see what it can do. At stock frequencies it is benchmarked and compared to a 2GB kit from Corsair and then the kit is overclocked to over 2,000MHz as we search for the top speed on this kit. This review is a must read if you are searching for a 1600MHz DDR3 memory kit!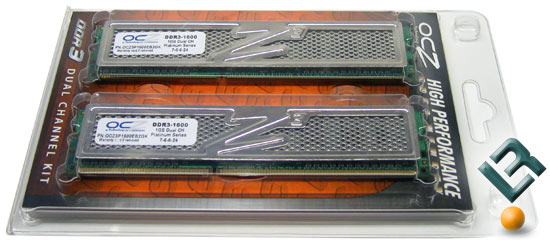 The 2GB DDR3 PC3-12800 (1600MHz) Platinum Series Kit is one of ten 2GB DDR3 memory kits (by five different memory companies), that I have been able to test in recent weeks. It is also the first 2GB DDR3 memory kit that can hit 2GHz on with full stability at 2000MHz with 8-8-8-24 timings, which has been a mark that I have been trying to reach for some time now.
Article Title: OCZ DDR3 PC3-12800 2GB 1600MHz Memory Kit Review
Article URL: http://www.legitreviews.com/article/576/1/
Pricing URL: http://legitreviews.pgpartner.com/searc ... d=50727923