Crucial Ballistix 2GB 1600MHz DDR3 Memory Kit Review
It's been two months since Crucial launched launched their first Crucial Ballistix DDR3 memory modules and while they were months behind other DDR3 manufacturers their 1600MHz kit has been a success. Legit Reviews has their latest 2GB 1600MHz DDR3 memory kit on the test bench and compares it other 2GB 1600MHz kits from Corsair and OCZ. Read on to see how the kit does!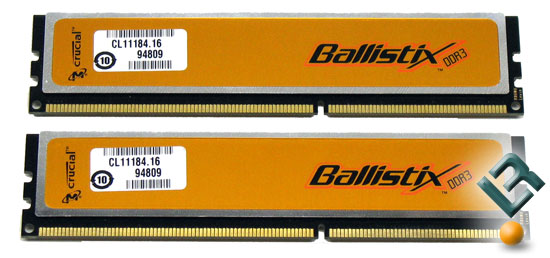 The kit that Crucial sent out for review is the 2GB DDR3 PC3-12800 (1600MHz) Ballistix Series Kit. Since that is hard to remember, the part number is BL2KIT12864BA1608. This kit works on Intel P35 and X38 Express platforms and will also run just fine on upcoming months Intel X48 Express chipset. The Intel X48 Express chipset will be the first on the market to support 1600MHz Front Side Bus (FSB) processors and 1600MHz memory clock frequencies from the get go.
Article Title: Crucial Ballistix 2GB 1600MHz DDR3 Memory Kit Review
Article URL: http://legitreviews.com/article/600/1/
Pricint At Time of Print: $379.99 After Rebate at Newegg