CES: NVIDIA Hybrid SLI, nForce 780a and GeForce 8200
Legit Reviews looks at new Hybrid SLI-capable products from NVIDIA! Included is the NVIDIA nForce 780a SLI, nForce 750a SLI, and nForce 730a media and communication processors (MCPs) for AMD CPUs, which will be released next month, as well as the new GeForce 8200—the industry's first micro-ATX motherboard solution with an onboard Microsoft DirectX 10-compliant motherboard GPU.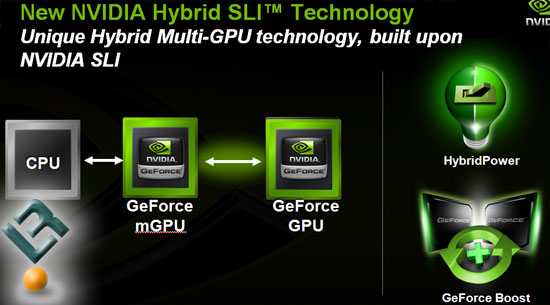 GeForce Boost is the ability to take a motherboard GPU and a discrete GPU and render together like SLI does to boost the over all graphics performance. The idea is that you get a boost in performance by plugging in a discrete graphics card into a board with integrated graphics. The graphics commands are sent to both GPU's and then the mGPU and dGPU render separate images. The images then go through a BLT (block copy) from the local memory to the system memory and are seamed together to be sent to the display with the local display interface.
Article Title: CES: NVIDIA Hybrid SLI, nForce 780a and GeForce 8200
Article URL: http://legitreviews.com/article/627/1/