CES 2008: OCZ Introduces Flex2, 32GB Flash, SSD's and More
OCZ Technology has a ton of new products on display here at the International CES 2008. OCZ has tons of new products and today Legit Reviews covers Flex2, Hydroflow, HydroJet, Neural Impulse Actuator, 32GB Flash drives were high-capacity SATA and SATAII Solid State Drives. All of these products are brand new and are set to come out in 2008.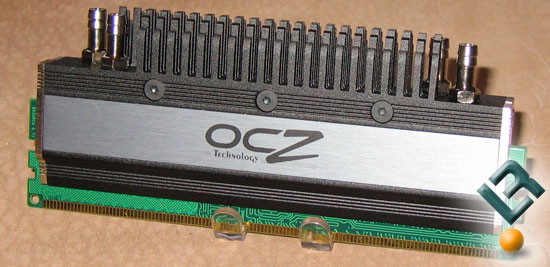 As the leader in high performance memory, OCZ is showcasing ultra-high speed DDR3 solutions designed for the extreme enthusiast. The latest Flex archetype, Flex2, offers superior cooling with dedicated liquid channels over the chips themselves enabling advanced overclocking and stability for the highest performing parts. The original OCZ Flex kits channeled water over the top of the module to help cool them. The new Flex2 modules now have water flow along each side, which means the coolant flow is directly above the memory chips. This means Flex2 kits have improved cooling, but require four water connections per module versus just two on the original Flex kits.
Article Title: CES 2008: OCZ Introduces Flex2, 32GB Flash, SSD's and More
Article URL: http://legitreviews.com/article/633/1/