EVGA, Palit and XFX GeForce 9600 GT Video Card Review
The NVIDIA GeForce 9 series of graphics cards has finally arrived! Today, NVIDIA is announcing the GeForce 9600 GT video card and while it may not be as anticipated as previous generations, it still marks a significant turning point. Usually, a new series is kicked off by the fastest card in the bunch, but this time around NVIDIA is launching the GeForce series at the heart of the discrete graphics market, the $169-189 price range.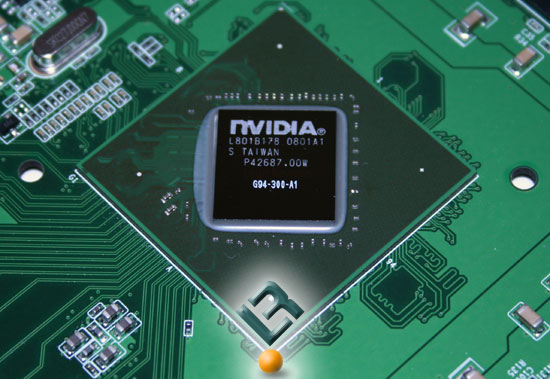 The GeForce 9600 GT is an PCI Express 2.0 graphics card that is powered by the G94 core which can be seen above. The core is labeled G94-300-A1 and was made the first week of 2008. The DirectX 10 ready core is built on the 65nm process and features 64 stream processors. The GeForce 9600 GT will be above the 8600 GTS and below the 8800 GT in terms of both price and performace. The GeForce 9600 GT also has new enhancements to NVIDIA PureVideo HD making it ideal for use in home theater applications. The recommended minimum power supply for GeForce 9600 GT graphics cards is 400 watts with a +12V rating of 26 Amps for a single card, so make sure your system power supply can handle it...
Article Title: EVGA, Palit and XFX GeForce 9600 GT Video Card Review
Article URL: http://legitreviews.com/article/666/1/