Thermaltake DuOrb CPU Cooler
The Thermaltake DuOrb CPU cooler is by far one of the most interesting looking CPU coolers on the market today. With a true Dual-Flow design it uses the system air flow to cool down surrounding temperatures and helps dissipate the heat of CPU, RAM, VRM, North Bridge, and the back of VGA card. The Thermaltake DuOrb CPU cooler gets testing on an Intel Core 2 Quad today, so read on to see if this new offering from Thermaltake can live up to its heritage.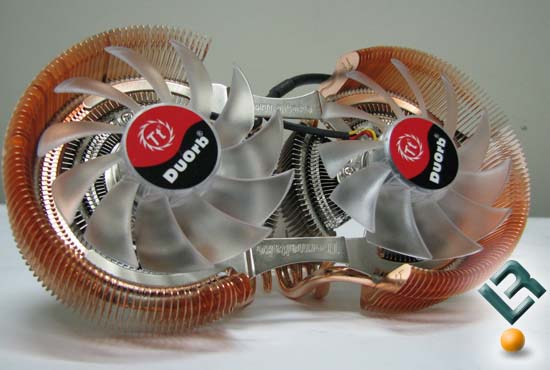 The Thermaltake DuOrb is a sharp looking, well performing cooler that should fit in just about any mid tower and up, and some mini towers. At the $65 price point this could be considered a high-end air cooler. It's quiet, light weight, good looking, and a breeze to install. It kept up with the NV-120 really well, which says lot for the cooler.
Article Title: Thermaltake DuOrb CPU Cooler
Article URL: http://www.legitreviews.com/article/688/1/
Pricing At Time of Print: $64.99 plus shipping