NVIDIA 3-Way SLI With GeForce 9800 GTX Graphics Cards
Armed with an nForce 780i SLI motherboard and a set of GeForce 9800 GTX 512MB video cards in 3-way SLI, we push the limits of graphics technology on our 30" Dell monitor at a resolution of 2560x1600. A couple of months ago we showed you 3-way SLI with a set of GeForce 8800 GTX graphics cards, but today that is old news. Sit back and see what 3-way SLI looks like with a set of GeForce 9800 GTX graphics cards!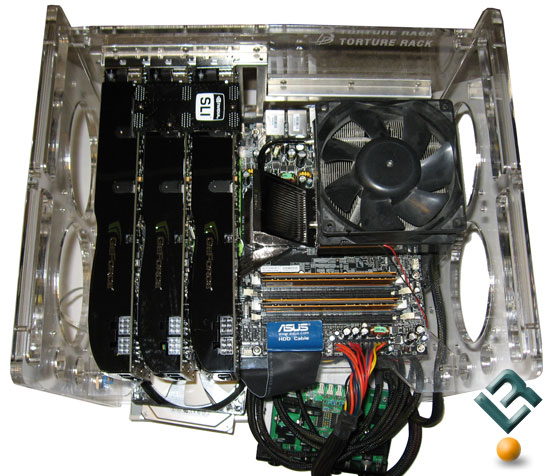 Today is April 15th, 2008 and that means that it is the day taxes are due in the United States. While this is a time of stress for many Americans it shouldn't be as you might be one of the many that is expecting a substantial income tax refund this year. It turns out that over 70 percent of Americans get money back at the end of the tax year, with the average refund being close to $2,000! Rather than having those precious dollars being absorbed into your normal spending routine or being used wisely to pay off bills you could do something crazy with your refund, get three GeForce 9800 GTX graphics cards for triple SLI! Actually, with a street price of $289 plus shipping buying the graphics cards will only set you back $867. This sounds like a large amount, but keep in mind a single GeForce 8800 Ultra cost $829 when it launched back in early 2007.
Article Title: NVIDIA 3-Way SLI With GeForce 9800 GTX Graphics Cards
Article URL: http://legitreviews.com/article/694/1/
Pricing At Time of Print: $289 plus shipping