I spent my Friday night catching up on the bench since I spent the past week in California for meetings then Intel's Spring IDF. I forgot I had the DFI 855GME-MGF motherboard and Intel 775 Pentium-M processor on the bench so I started to play around and overclock them. Because at midnight to 4am running benchmarks will make anyone fall asleep.
To start out I updated CPU-Z, which I noticed version 1.27.2 is out now and got the default clock speeds. A blisstering 2GHz at 100MHz FSB with a multi of 20 and DDR333 memory.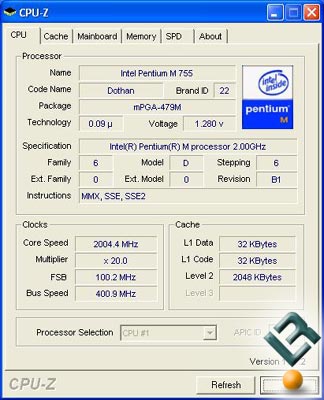 I knew i wanted to run 533MHz FSB, so I raised the FSB to 133 from 100, kept the memory divider at 5:3 (DDR442). I found the highest multi that the system would load into windows was 18.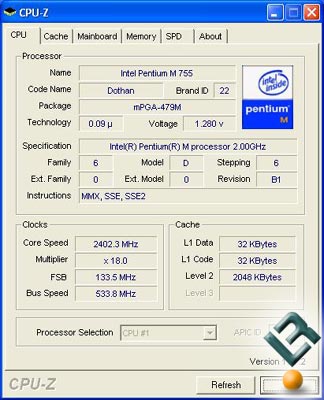 It was at this point i tried going over 133MHz FSB and failed in my attemps. Knowing that this shouldn't be the max I spent the next couple hours trying many different brands of memory and IC's. The memory options allow 2-2-2-5 to 2.5-3-3-7 timings and no voltage adjustment, so I knew that might be a limitation. It turns out that my Engineering Sample processor was being capped at 1.280 Vcore in the BIOS. When i removed the ES CPU and put in a retail CPU the Voltage settings allowed me to bump up the core to 1.340V. Allowing me to hit the following: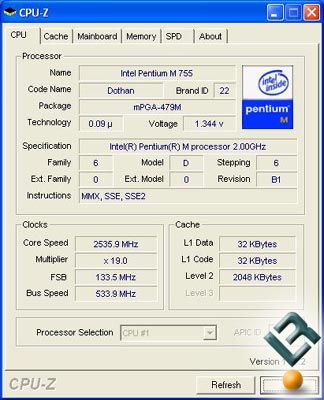 Funny that the CPUID in the DFI boards BIOS locked down the ES sample, but not the retail version. I'm working on the FSB issue. Why none of my Intel Pentium-M Dothan's like much more than 133MHz amazes me. To be honest the best I got thus far is 134MHz FSB. Expect an article on this board and another on overclocking the Intel 755 processor.
So far I'm happy with my 535Mhz overclock as it is a
27%
boost in clock speed while I also gained
33%
on the memory and front side bus!