Folding@Home Finally Coming To NVIDIA GeForce Video Cards
It has been over a year since ATI got into the Folding@home project and it seems that the time is right for NVIDIA to join in! Mr. Vijay Pande himself was in San Jose today and we managed to catch up with him while he was giving the presentation on behalf of Stanford University on how folding is going to work on NVIDIA GeForce graphics cards. This is a must read if you are interested in distributed computing.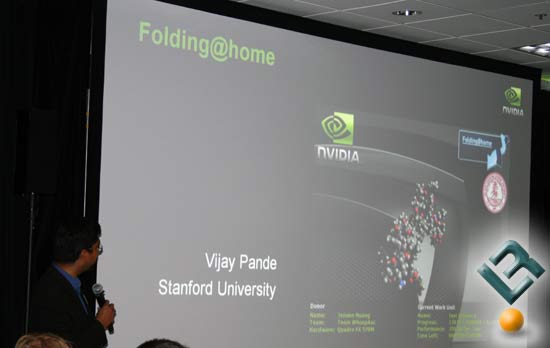 The highlight of the presentation is when folding@home was announced to run on NVIDIA graphics cards. It seems that the folding team was able to program a folding client in C thanks to the NVIDIA CUDA software environment. NVIDIA has 70 million graphics cards on the market today that can use CUDA programming, which means that the folding project could get a huge boost in performance if more end users would join the project.
Article Title: Folding@Home Finally Coming To NVIDIA GeForce Video Cards
Article URL: http://legitreviews.com/article/713/1/