Smooth Creations LANShark Gaming System Review
A break from the ordinary, we take a look at a complete PC gaming system with custom airbrushed artwork, Intel Quad core processor, and 4870 1GB in CrossFire. Tired of everyone having the same computer case as you? Smooth Creations has a high quality solution. The Smooth Creations LANShark was designed to be the Ultimate LAN party system and with a custom painted 16" acrylic case and two ATI Radeon HD 4870 1GB graphics cards in CrossFire it will make your buddies smack talk stop dead in their tracks.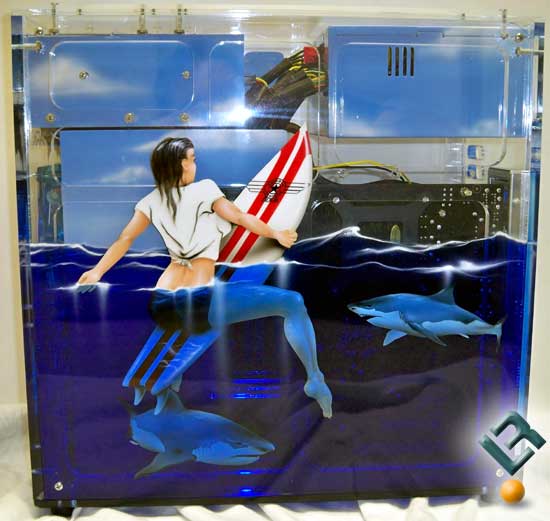 So what can we say about this beauty from Smooth Creations? For the intended audience it's great. If you appreciate art or really want a departure from the norm for your next gaming PC, Smooth Creations' LANShark is one to keep on your short list. However the one thing I've left out until now is the price. At $2,537 this is not an inexpensive machine, but it really isn't an incredible amount of money over the sum of its parts. When you consider the amount of work that's been put in, the 1 year warranty on the parts, and the lifetime warranty on the paint (excludes scratching and chipping of course) it really isn't a bad price if you're in the market for a system you don't put together yourself.
Article Title: Smooth Creations LANShark Gaming System Review
Article URL: http://legitreviews.com/article/828/1/