First Look: Energizer Zinc Air Prismatic Battery
At this year's Consumer Electronics Show, St. Louis-based Energizer announced that they would be releasing Zinc Air (Zn-O2) Prismatic batteries. This morning a package arrived from Energizer, and inside the metal display case was a real Energizer PP355 Zinc Air Prismatic 1.4V battery! Read on to see what makes this battery special in one of the first hands-on looks at the Zinc Air Prismatic Battery.
The Zinc Air system requires oxygen from the air as "fuel" to operate. The air access holes under the tape have been included to support the maximum rate capability of the battery. When the battery tab is removed, the battery is "fully open". The rate of oxygen flow required is proportional to the discharge rate. Therefore, limiting the amount of air access to a zinc air battery can increase the useful life of the battery from 1 – 3 months with no air management to 1 – 2 years using air management. The Energizer PP355 battery has an air requirement of 1.3 cc air/min @ 25 mA, so there is a minimum amount needed for the battery to operate. By using air as fuel it will leave design companies with the ability to custom tailor a battery to their device, which is very innovative.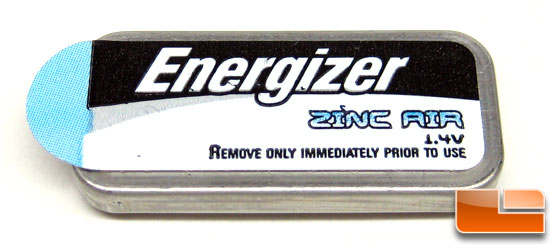 Article Title: First Look: Energizer Zinc Air Prismatic Battery
Article URL: http://legitreviews.com/article/887/1/