SanDisk 16GB Mobile Ultra microSDHC Card Review
The 16GB SanDisk Mobile Ultra microSDHC was designed from the ground up to work with newer mobile phone models that support higher capacity cards. With a Class 4 speed rating this 16GB microSDHC is one of the fastest cards on the market today. If you like to store music or watch movies on your phone read on to see if this card is right for you.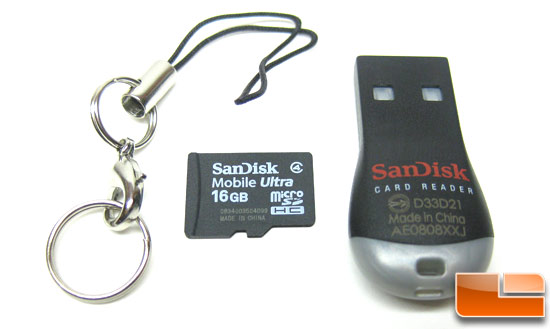 When it comes to pricing the 16GB SanDisk Mobile Ultra microSDHC memory card carries a manufacturer's suggested retail price (MSRP) of $119.99. A quick search on Google Products shows that it can be found online for $92 plus shipping. While that price seems high keep in mind that you are looking at one of the largest and fastest 16GB microSDHC cards on the market. If you shop around for other 16GB cards you will find the Kingston SDC2/16GB and the Patriot PSF16GMCSDHC23P, but remember both of these are Class 2 cards. They are half the price, but also come with half the performance...
Article Title: SanDisk 16GB Mobile Ultra microSDHC Card Review
Article URL: http://legitreviews.com/article/914/1/