QNAP TS-459 Pro Turbo NAS with Intel Atom D510
The TS-459 Pro is a powerful 4-bay network attached storage (NAS) server, which is designed to provide an affordable and easy-to-manage solution with iSCSI support. The QNAP TS-459 Pro Turbo NAS also incorporates the next-generation Intel Atom D510 1.66GHz Dual-Core processor and 1GB DDR2 memory for performance that is second to none according to QNAP!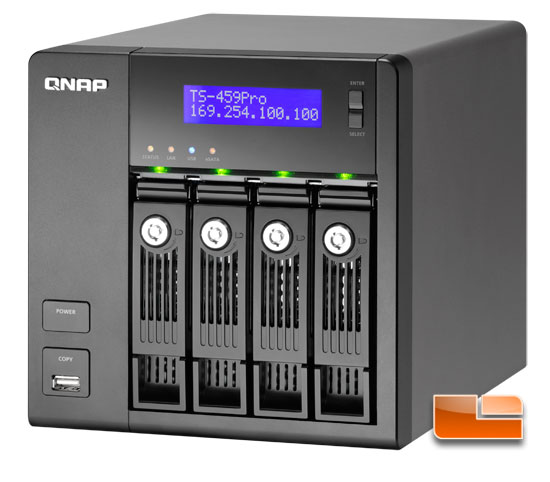 By upgrading the processor to Intel's latest (and fastest) Atom D510, the TS-459 Pro picks up an incredible performance boost. As with all of QNAP's Turbo NAS Business Series family, the NAS supports file sharing across Windows, Mac, Linux and UNIX environments without missing a beat. For business users, QNAP has equipped the TS-459 with a ton of applications built in such as file server, FTP server, printer server, web server, and Windows AD support. The dual-core Intel Atom also helps to expand the the number of iSCSI targets the TS-459 Pro supports (256, up from 8 on the TS-419P). Real-world performance shows that the Intel Atom upgrade is not just marketing hype. As shown below in a chart comparing the TS-419P with the TS-459 Pro, write speeds have increased almost 200% over the TS-419P and read speeds have increased 57%!! This is pretty incredible.
Article Title: QNAP TS-459 Pro Turbo NAS with Intel Atom D510
Article URL: http://www.legitreviews.com/article/1226/1/
Pricing At Time of Print: $949.99 plus shipping