ASUS 3x3 Overclocking Summit - ROG Experience Tour
On April 10, 2010, three of the leading overclocking teams in North America battle it out for two days using the new ASUS ROG Rampage III Extreme and Maximus III Extreme motherboards. Team Pure, OC Alliance and XtremeSystems went head to head in a 3-way overclocking shootout featuring ten different benchmarks to see which team was the best. Read on to see who won and to see what went on at the event!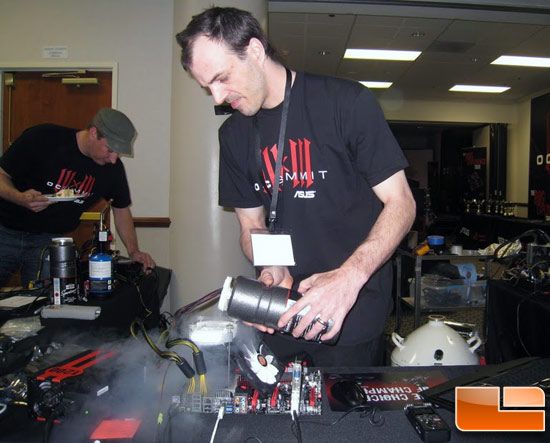 Last weekend I had the opportunity to attend the Asus 3x3 Overclocking Summit in Santa Clara. On April 9th and 10th three overclocking teams met in Santa Clara to overclock and compete for prizes and bragging rights. The teams were formed of members from PURE, OC Alliance, and XtremeSystems. Representing PURE were Jody Bailey, Brian Yuhas and myself. Representing OC Alliance were Allen Golibersuch, Travis Jank and Robert Marique. Representing XtremeSystems were Michael Graf, Brian McLaclan and Charles Wirth...

Article Title: ASUS 3x3 Overclocking Summit - ROG Experience Tour
Article URL: http://www.legitreviews.com/article/1281/1/