Transcend JetFlash 110 2GB Flash Drive
Floppy drives, CD's, and even DVD's are becoming obsolete as removable media in this day and age. Everyone wants something indestructible, something lightweight, and most of all, something big in capacity. Today we take a look at something that hopes to fulfill all those requirements, as well as retaining good transfer speeds.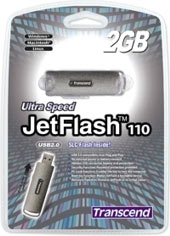 The hellfire test: 150 Degrees F on the Oven, a very hot day in the desert, before we crank it up to a blistering 200 degrees! The drive does it flawlessly without a croak. We are sure it could have gone higher, but unless you are dropping your drive into a bed of lava, it is not needed.
Read on to see what other crazy tests Patrick did to this drive!
Review Link:
Transcend JetFlash 110 2GB Flash Drive
Price Link:
Current Pricing