Sandforce SSD Firmware Version Confusion
What SF-1200 based SSD should I buy? I have been asked that question numerous times in recent weeks and to be honest it's a great question. Rumors are going around that OCZ Technologies has a special firmware revision that uncaps random 4K write performance. Other companies offer Sandforce SF-1200 series controllers in their Force series and don't have the performance cap. To be honest the firmware situation with Sandforce drives is confusing so we went straight to Sandforce to try to get some answers.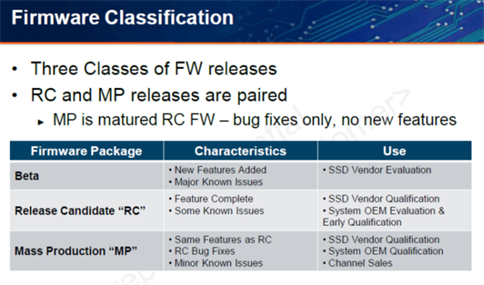 This chart is shows that internally that Sandforce has three firmware types, but it doesn't help explain what the firmware is on the drives that review sites are reviewing or the drives that you are buying this very second. It also appears that they are leaving it up to their customers to pick and choose what firmware versions they want to release and that RC firmware packages have been released to the channel even though their classification doesn't list those firmware versions as being channel ready. Still digging for the truth from Sandforce I asked what is the MP firmware revision for the Sandforce SF-1222 controller and was told something mildly shocking.

Article Title: Sandforce SSD Firmware Version Confusion
Article URL: http://www.legitreviews.com/article/1312/1/