GIGABYTE 880GMA-UD2H AMD Motherboard Review
The GIGABYTE 880GMA-UD2H is a micro-ATX motherboard that has some great features thanks to the AMD 880GM chipset. Priced as a sub-$100 motherboard should we get our hopes up for the great performance we have come to expect from GIGABYTE, or is it just a low price point filler? Read on to find out as we test the board with an AMD Socket AM3 multi-core processors (the six core 1055T) and check out the boards overclocking capabilities and power consumption.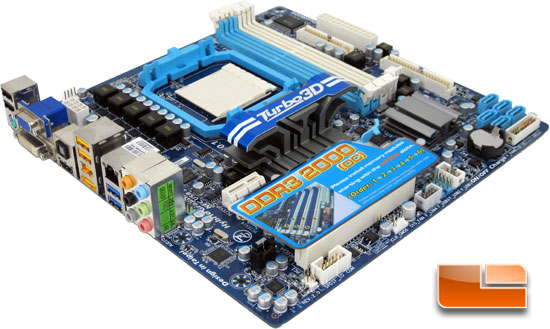 All in all I have to say that I am very impressed with the GIGABYTE 880GMA-UD2H motherboard. Throughout the testing it never complained or crashed, and was competing near the top of the charts with the much more expensive boards like the ASUS Crosshair IV Formula. I suppose I should expect nothing less from a company like GIGABYTE, though it is still surprising how well it did! This is the type of performance I have come to expect from GIGABYTE!
Article Title: GIGABYTE 880GMA-UD2H AMD 880G Motherboard Review
Article URL: http://www.legitreviews.com/article/1387/1/
Pricing At Time of Print: $99.99 shipped w/o rebates or incentives