Thermaltake TT eSPORTS Challeger Pro Gaming Keyboard Review
When was the last time that you upgraded your keyboard? The Tt eSPORTS CHALLENGER Pro Series keyboards has red backlighting, 10 Macro keys and even has a cooling fan on it! The idea behind the fan, is to dry your sweaty hands caused by the rise of adrenaline during gaming. The Tt eSPORTS CHALLENGER Pro Gaming Keyboard costs under $70 as well, which might make it an ideal gift for the upcoming holiday season.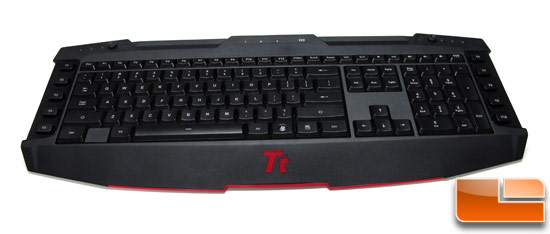 What I liked most about the Thermaltake TT eSPORTS Challenger Pro keyboard was its ability to load up to four different profiles. In Starcraft II, this gave me the ability to use the same key to produce units regardless of which race (Terran, Protoss, or Zerg) I was playing. Being able to adjust the timing of the macro key is another feature which I thought was very cool. I also liked the overall keyboard look and feel and the ability to adjust the LED back light illumination of the keys. It's got a nice long detachable USB cable and carry bags for both the keyboard and cable making it easy to transport to a friends house or to a competition. I was just at Blizzcon 2010 and saw several of the professional gamers pulling their keyboards out of carrying cases similar one included with the Challenger Pro...

Article Title: Thermaltake TT eSPORTS Challeger Pro Gaming Keyboard Review
Article URL: http://www.legitreviews.com/article/1459/1/
Pricing At Time of Print: $69.99 Shipped