ASUS Radeon HD 6870 Video Card Review
There is nothing better than a video card that stays fast while it runs cool. There is nothing worse than video lag because your graphics card is too hot. ASUS has come up with an innovative way to try and keep our cards running the way they should. The ASUS Radeon HD 6870 Direct CU Video Card was made with these concerns in mind. Does it live up to our expectations? You are going to have to take a look inside to see.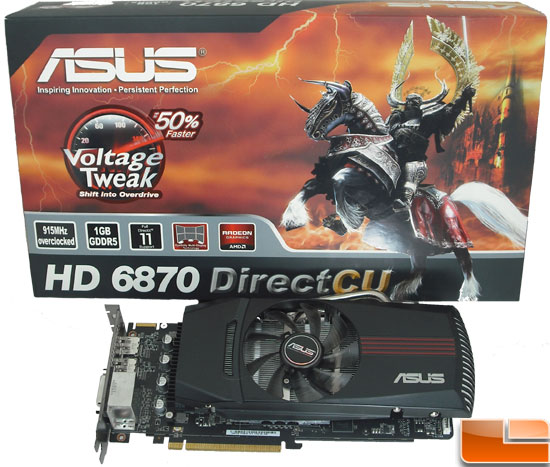 With killer looks and performance to match the ASUS Radeon HD 6870 at $199.99 shipped with a 3 year warranty fits right in there with the rest of the cards in its class. With features such as the Direct CU cooling system and the ability to bump up the voltage with a custom made driver it seems like you can't go wrong with the ASUS Radeon HD 6870. It did perform well in all of our benchmarks and tests and even without the use of the special ASUS driver we were able to overclock this bad boy to 1GHz without any problem, and I am sure we will be able to go even higher once we can adjust the voltage...

Article Title: ASUS Radeon HD 6870 Video Card Review
Article URL: http://www.legitreviews.com/article/1605/1/