Corsair Dominator 4GB DDR3 1600Mhz C7 Memory Kit Review
Dominator means one thing in the world of computers, high end memory from Corsair that is ready to be pushed to the extreme. Legit Reviews has the Corsair CMP4GX3M2C1600C7 memory kit on our Intel Core i5-2500K Sandy Bridge test system to see how this 4GB 1600MHz C7 memory kit performs! We also see if this kit can live up to the name Dominator when we try to run it at 2133MHz!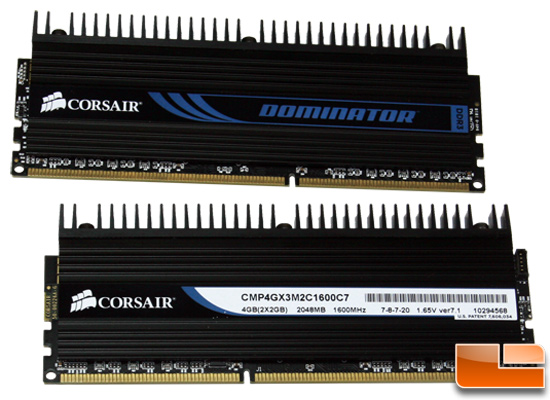 The Corsair Dominator PC3-12800 kit came to dominate and based on the amount of overclocking you can achieve I would say it did just that. While I knew this memory would be a good performer I was surprised that I was able to push this memory to 2132Mhz and keep the timings fairly tight. Not bad for our test system that was made up of the ASUS P8P67 motherboard and an Intel Core i5-2500K processor. From what I know about the PCS Chips branded memory ICs used on this specific kit these usually hit a wall around 2200MHz, so I was happy with how far I could push the kit.
Article Title: Corsair Dominator 4GB DDR3 1600MHz C7 Memory Kit Review
Article URL: http://www.legitreviews.com/article/1642/1/
Pricing At Time of Print: $69.99 shipped