WD Scorpio Blue 1TB Notebook Hard Drive Review
Western Digital recently released a 1TB SATA 2.5-inch notebook hard drive in their Scorpio Blue Series that uses the standard 9.5mm height. This means that you can now get a 1TB drive that will fit inside your laptop that offers amazing storage capacity. We take a look at this 1TB monster to see how this 5400 RPM drive with 8 MB of cache performs on the test bench and compare it to a couple other notebook hard drives!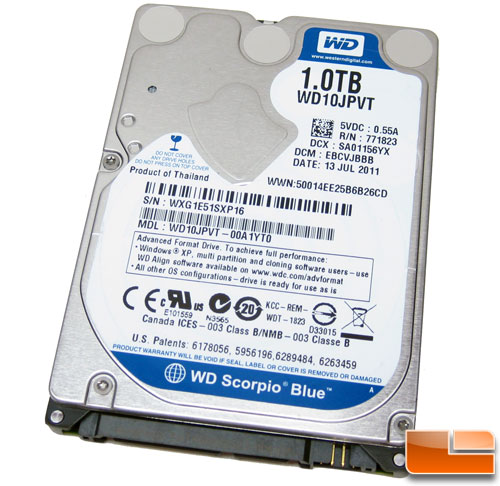 Today, we'll be looking at a the WD Scorpio Blue WD10JPVT 1TB 5400 RPM 2.5" SATA II notebook hard drive. With a 5400 RPM drive speed, 8MB cache, and 3 GB/s SATA interface speed, the 1TB Western Digital Scorpio Blue hard drive is the largest capacity drive offered by Western Digital in the 2.5" SATA notebook standard. If you want to massive amounts of storage space in a laptop this is the drive for you!
Article Title: WD Scorpio Blue 1TB Notebook Hard Drive Review
Article URL: http://legitreviews.com/article/1682/1/
Pricing At Time of Print: $127.00