Seagate FreeAgent GoFlex 4TB Desk External Drive Review
Seagate recently announced the 4TB GoFlex Desk external hard drive – the highest capacity hard drive in the industry. The Seagate 4TB GoFlex Desk uses a single 3.5" SATA 6Gbps hard drive that has five 800GB platters spinning at 7200RPM. Seagate offers this drive with either USB 3.0 or FireWire 800 data connections as you'll want a fast connection to move that much information. Read on to see how the 4TB GoFlex Desk with a SuperSpeed USB 3.0 connection performs!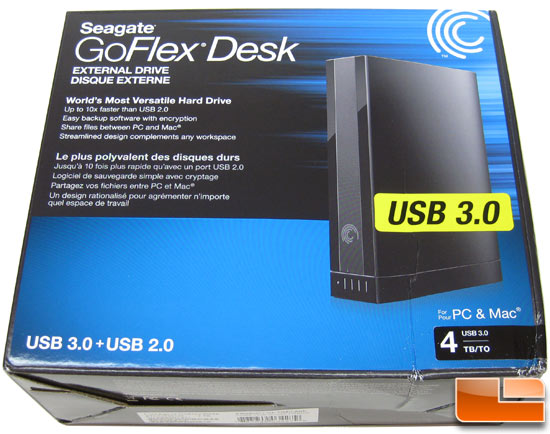 The Seagate 4TB GoFlex Desk is an impressive external storage drive that raises the bar for what can be stored on a single external storage drive. The key to this is the use of one of the very first 3.5" SATA hard drives that is 4TB in capacity. The performance of the Seagate 4TB GoFlex Desk drive was impressive with benchmarks like ATTO showing 192MB/s read speeds and 162MB/s write speeds! The Seagate 4TB SATA 6Gbps 7200 RPM 3.5" hard drive that Seagate uses inside the SuperSpeed USB 3.0 ready enclosure is no performance slouch! We didn't bother testing at USB 2.0 speeds as both the read and write speeds never dropped below the maximum speeds of USB 2.0...
Article Title: Seagate FreeAgent GoFlex 4TB Desk External Drive Review
Article URL: http://www.legitreviews.com/article/1704/1/
Pricing At Time of Print: $249.99 plus $7.99 shipping