NZXT FX120, FX140, & FS200-R Case Fan Reviews
NZXT is a rather new contender to the cooling market, with just in the past year's time releasing both a new fan series and a new CPU cooler. Today I've had a chance to look at and extensively use their new FX-120LB, FX-140LB & FS-200LB-RLED fans. We'll find out if NZXT has what it takes to contend in the cooling market, what they have done in the case market and find out if these fans are really worth your buck.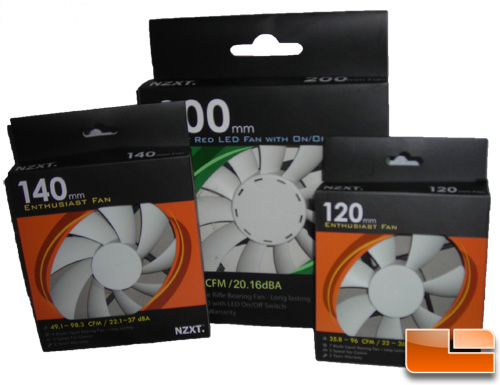 For the first two products today, we have two of NZXT's newest entries to the cooling fan market; the FX Series of fans are Enthusiast grade products with Fluid Dynamic Bearings and high performance specs. With high RPM fans with huge static pressure and airflow ratings, NZXT's looking to capitalize on those who need well built, high performing fans for their multi-GPU or CPU cooling solutions. The FX Series of fans specialize in Airflow & Static Pressure allowing them to maximize the cooling potential of any radiator or heatsink. The FX Enthusiast Series fans from NZXT come with 3 speed, dip-switch controls to adjust fan speed between low (5v), medium (7v), & high (12v) settings. We'll be looking at both the FX-120 and FX-140 models in today's review, which is very exciting for me, as it's one of the few 140mm fans to come out in recent years that actually uses a standard 140mm frame instead of a custom design.


Article Title: NZXT FX120, FX140, & FS200-R Case Fan Reviews
Article URL: http://www.legitreviews.com/article/1702/1/
Pricing At Time of Print: $15 to $30