AMD FX-8150 Black Editon CPU Water Cooler Review
When AMD launched the Zambezi-FX processors this week based off 'Bulldozer' core architecture the realized that these 8-core 32nm processors might need enhanced cooling. To solve this situation, AMD decided that with the FX Series CPU's they would have an option for a retail boxed processor that includes a self contained water cooler rather than the typical air cooler. This is the first time AMD has ventured into offering a water cooling kit for the public and we have it on the test bench!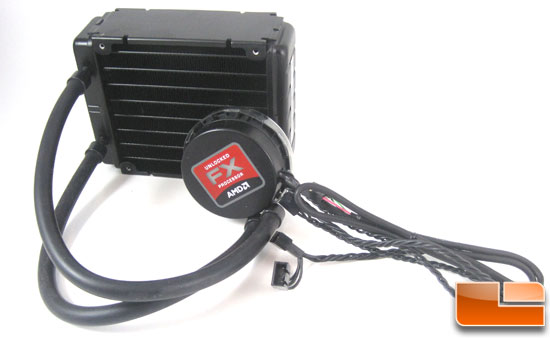 The AMD water cooling kit is very nicely made. AMD took an off the shelf cooler from Asetek that closely resembles the Antec Kuhler 920 water cooler. The changes AMD made, do make it better than the Antec H2O 920. The other changes made by AMD are mostly cosmetic branding changes and some software tweaks to the GUI and fan settings...
Article Title: AMD FX-8150 Black Edition CPU Water Cooler Review
Article URL: http://www.legitreviews.com/article/1743/1/