Intel 520 'Cherryville' Series 240GB SSD Review in RAID 0
Intel's 'Cherryville' 520 Series SSDs are here, packing heat with SandForce SF-2281 controllers and custom firmware. We received a pair of 240GB drives to throw on our test bench and report our findings. With nearly a year to develop the firmware, will the 520 Series become the new gold standard for SSDs or just another drive in the SandForce pile? Read on to see.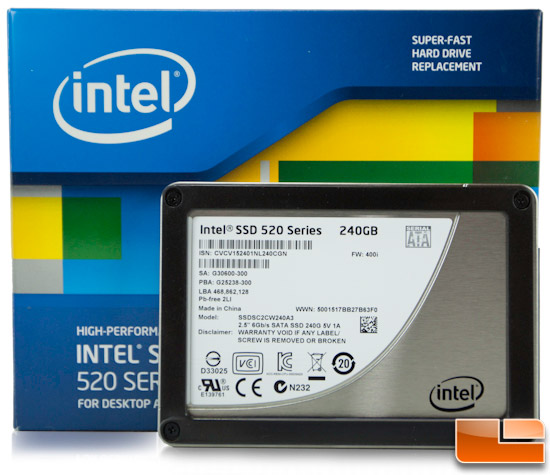 On the performance side, we saw the drive meet and exceed the read/write specifications of 550MB/s and 520MB/s on compressible sequential reads/writes respectively. On incompressible data, Intel told us we should see 550MB/s reads and 235MB/s writes and the best we saw were 491MB/s reads and 300MB/s writes. Each set of scores are on par with what we see with other SF-2281 drives with synchronous NAND. So to the question, did Intel put out the fastest SF-2281 drive? It's among the fastest but ...
Article Title: Intel 520 'Cherryville' Series 240GB SSD Review in RAID 0
Article URL: http://www.legitreviews.com/article/1815/1/
Pricing At Time of Print: $509 SRP for the 240GB Drive Reviewed