Scosche reVOLT c2 Dual USB Car Charger Review
Scosche Industries recently introduced the reVOLT c2 – dual USB car charger. The reVOLT c2 is the first and only shotgun shell sized car charger to fit two 2.1 Amp USB ports into such a compact form factor and pack enough juice to refuel two power hungry tablets simultaneously. Read on to find out more about it and to see if it sits flush in our cars 12V accessory charger!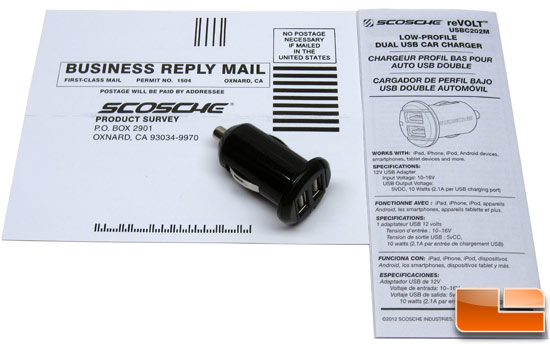 The Scosche reVolt c2 solves the problem of how to charge more than one power hungry USB device at a time from a single 12V accessory power socket. This is an increasing problem and the reVolt c2 is the quick and easy solution that won't break the bank. The Scosche reVolt c2 comes backed by a one year warranty and is available online for $14.99 plus $0.99 shipping. You can find cheaper dual USB car chargers on the market, but they aren't this small and currently don't have dual 2.1 Amp USB ports.
Article Title: Scosche reVOLT c2 Dual USB Car Charger Review
Article URL: http://www.legitreviews.com/article/1878/1/
Pricing At Time of Print: $14.99 plus shipping