Kingston HyperX 3K 240GB SSD Review
Kingston did a fabulous job with their HyperX SSD, earning our Editor's Choice award last year. They've taken that same formula, dropped the endurance of the NAND along with the price, and give it a little different color scheme to offer up the HyperX 3K drive. How does it compare in performance to the original HyperX drive as well as the other drives we've tested? Take a peek to see!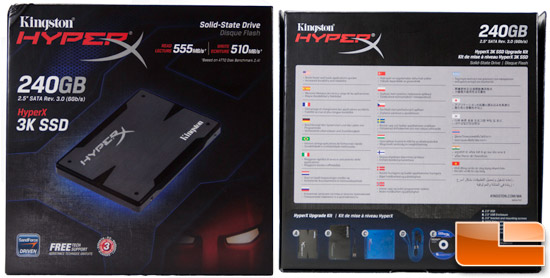 The benchmark results on the Kingston HyperX 3K 240GB SSD came out very much as we expected. Performance nearly mirrors that of the Kingston HyperX 5K drive and places itself amongst the best drives we have tested. The read/write specifications of 555MB/s and 510MB/s respectively are good to start with but we saw the writes exceed that specification in the ATTO benchmark by an additional 24MB/s. Real world scores were very good as well and since we've spent several months using the 5K drive in one of our 24/7 systems without incident, we expect to see the same consistent performance from the 3K drive.
Article Title: Kingston HyperX 3K 240GB SSD Review
Article URL: http://www.legitreviews.com/article/1961/1/