AVG Internet Security 2013 Software Review
AVG Internet Security 2013 is said to provide the ultimate protection for your PC and online identity. It offers easy-to-use virus protection everyone needs such as detecting and stopping viruses, threats and malware. Your identity is also well protected when shopping and banking. The software is also said to not slow your PC down with it's scan quickly. Read on to see what our impressions are of AVG Internet Security 2013!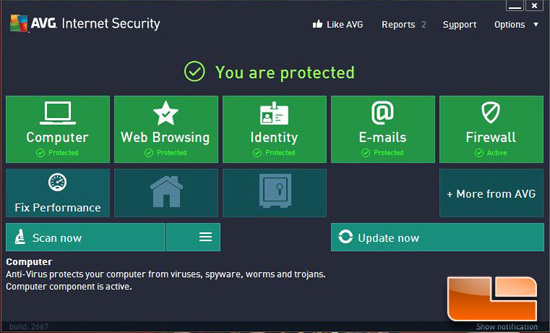 The first thing long time AVG users will notice is the revamped interface. Gone is the more clunky yet still functional design of last year. In its place, we have a new tiled interface that will seamlessly blend in with Windows 8 upon its release later this year. The design is simple, straightforward and easy to understand. It also has all the options you would expect from a fully featured Internet security suite...
Article Title: AVG Internet Security 2013 Software Review
Article URL: http://www.legitreviews.com/article/2051/1/
Pricing At Time of Print: $34.99 plus shipping