MicroCenter.com has Intel Core i5 2500K 3.3GHz LGA 1155 Boxed Processor for
$99.99
. In-store pick up only at your local Microcenter store.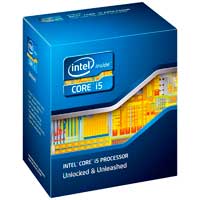 Meet the second generation Intel® Core™ i5 processor with more built-in features for even more impressive performance and power. Billed as a major upgrade as part of Intel's next generation Core i-series processors, this quad-core processor enables greater productivity through its Turbo Boost 2.0 technology. It also offers 6MB of Smart Cache dynamically allocated to each core based on workload, improving multitasking, reducing latency, and upping overall performance.

The Core i5 2500K operates at 3.30 GHz, has 6MB L3 cache, and four cores and four threads all channeling the latest processor technology to bring you faster data access, better media processing, and more memory bandwidth. Whether you're upgrading or looking for a whole new system, the next gen Intel Core i5 2500K processor is a great choice for future-minded Intel lovers.