Mad Catz R.A.T. M and M.O.U.S. 9 Gaming Mice Review
Mad Catz newest additions to the iconic R.A.T. mice are mobility focused designs featuring Bluetooth connectivity and 1-year battery cycles. Are you wondering if these mice are actually robots in disguise? Well they do have lasers! The R.A.T. M is a notebook gaming mouse with a 6400 DPI sensor and the M.O.U.S. 9 has a R.A.T. form with a glass tracking sensor. There's plenty to see and we have you covered with much more!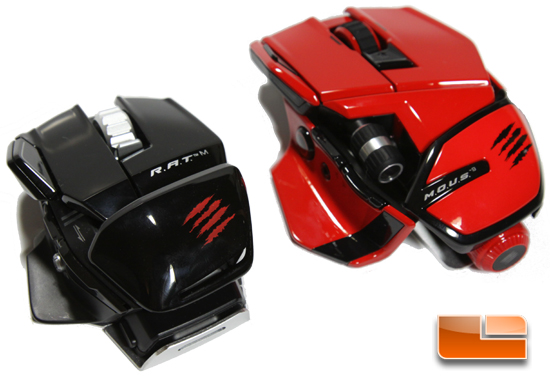 I have little to complain about using the M.O.U.S. 9. It ergonomically fills and supports the palm and the sliding palm rest significantly adds flexibility to the mouse's shape. Claw grip users won't be left out either thanks to the ergonomically flexible R.A.T. shape the M.O.U.S. 9 is built on. No matter how the mouse is held, it's difficult to access all the side buttons and sometimes the horizontal scroll wheel, but the M.O.U.S. 9 was just too comfortable for me to care. The two side button locations were perfectly placed for each type of mouse grip and the buttons were not too stiff, but not too soft to accidentally press...
Article Title: Mad Catz R.A.T. M and M.O.U.S. 9 Gaming Mice Review
Article URL: http://www.legitreviews.com/article/2198/1/