Overclocking The Intel Pentium D Processor 805
The Intel Pentium D Processor 805 was silently launched by Intel and many enthusiasts may not have heard about it yet. Legit Reviews recently purchased the retail boxed processor and went right to overclocking it to see how the 805 performs. At 2.66GHz with a 533MHz FSB the processor doesn't sound fast, but come see how it runs at 3.8GHz!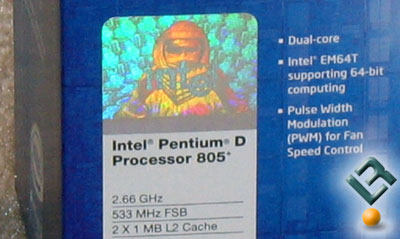 We ordered our Intel Pentium D Processor 805 from ChiefValue.com for $130.99 last week and currently they are priced even lower at $129.79 shipped. For the overclocker getting a 3.8GHz processor that needs no voltage adjustments for $129.79 shipped is nearly unheard of. To make things even better a high-end enthusiast motherboard is not needed for overclocking as running under 200MHz FSB is no big deal.
Article Title:
Overclocking The Intel Pentium D Processor 805
Current Pricing:
Live Pricing