Super Talent's T800UX2GC4 PC2-6400 Memory Kit
The Super Talent T800UX2GC4 memory kit is a 2GB memory kit that is rated to operate at 800MHz with 4-4-3-8 timings. With upcoming AMD chipsets like the nForce 590 SLI supporting 800MHz DDR2 memory now is the time to start taking a look at various DDR2 brands! Read on as we introduce Super Talent for the first time and look at their memory.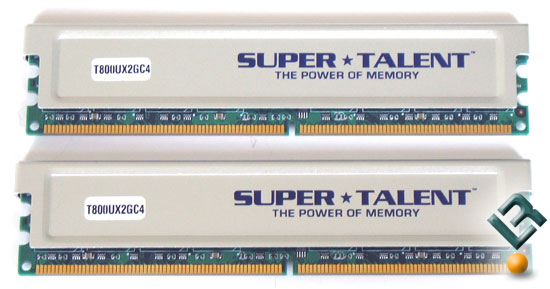 The T800UX2GC4 memory kit comes backed with a full lifetime warranty. Super Talent Technology's DDR and DDR2 system memory modules are fully covered for the life of the product, but the warrantly claim may be asserted by the buyer only. The Super Talent warranty does not talk about overclocking and voltages, so we contacted Super Talent to see what the deal was. We were informed that if the memory fails during use then return it for a new set, since we are looking at overclocking memory it seems to be fully covered even if we push it a bit too far.
Article Title:
Super Talent's T800UX2GC4 PC2-6400 Memory Kit