Corsair 2GB PC2-6400 C3 DDR2 Memory Review
With Intel Conroe systems coming to market and AMD's AM2 platform already available the need for enthusiast DDR2 memory has never been greater. Today we take a look at Corsair's PC2-6400C3 memory line, which is aimed at overclockers and gamers. The Twin2X2048-6400C3 comes with Enhanced Performance Profiles (EPP) and tight timings of 3-4-3-9.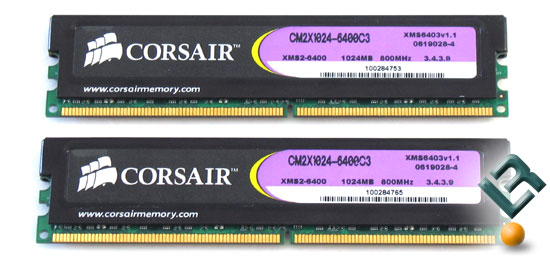 After reviewing ten enthusiast brand lines from eight companies I feel confident to call Corsair's PC2-6400C3 memory line the ultimate enthusiast memory on the market today. Thanks to ability to run super tight CL3 timings up over 880MHz and CL4 timings well over 1.1GHz these modules will give gamers and overclockers ample room to best optimize their system performance. Corsair made the smart move to use Micron D9 IC's on their PC2-6400C3 modules and thanks to super tight screening they are able to produce these kits in volume...
Article Title: Corsair 2GB PC2-6400 C3 DDR2 Memory Review
Article Link:
http://legitreviews.com/article/364/1/
Pricing Link:
http://www.zipzoomfly.com/jsp/ProductDe ... de=85025-7
DIGG It:
http://digg.com/hardware/Corsair_2GB_PC ... ory_Review