The Ultra X-Connect X2 550W Power Supply Update
Last month in the 8-way SLI and Crossfire Power Supply (PSU) Roundup we found that not every power supply makes the cut on the high end gaming systems that we used for testing. One of the power supplies that ended up in our yellow caution zone was the Ultra X-Connect X2 550W power supply.Ultra was logically unhappy with where their product finished in our review. After the article was published Ultra Products started to get feedback from our readers and their current customers. They then took the time to duplicate our test systems in their labs, minus the AGEIA PhysX card, and believe they found the answer to why it didn't do so hot. It was determined that the 12V might have dropped as much as it did because it had very little load on the 3.3V/5V rails.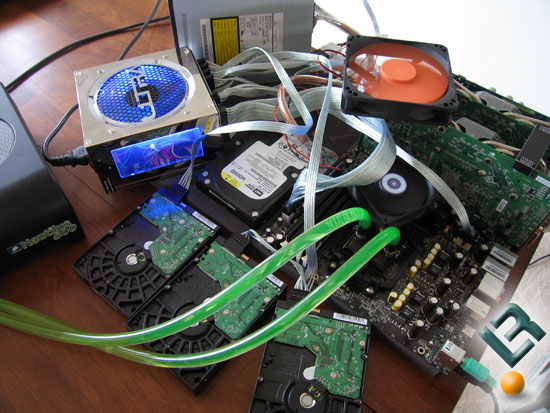 Ultra goes on to inform Legit Reviews that we need at least a 45A load on the 3.3V/5V rail if you're going to put as much as a 37A load on the 12V rail. So in other words, Ultra said their power supply might actually perform better with four hard drives hooked up to it than it would with just one. Since we tested with only one hard drive this could be the case and since Ultra was concerned with our findings we went back to the test bench and installed three more Western Digital 250GB hard drives.
Article Title: The Ultra X-Connect X2 550W Power Supply Update
Article URL:
http://legitreviews.com/article/368/1/