AeroCool Xfire Heat Sink Fan Review
The Aerocool Xfire is a massive heatpipe cooling solution that can be used Intel LGA775 and AMD K8 platforms granted that the Xfire can fit. This heat sink stands at 100mm tall and 120mm wide and uses a white 120mm fan with quad white LED's to keep the ~100 cooling fins nice and cool. Legit Reviews takes the Aerocool Xfire out for a test drive on our Intel Core 2 Duo test platform and give our honest thoughts on the Xfire.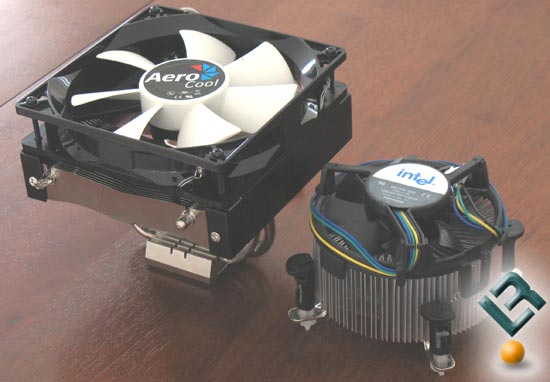 The Aerocool Xfire dwarfs the reference Intel heat sink as the Xfire is 100mm tall and 120mm wide thanks to the Aerocool 120mm fan that mounts on top. The fan that Aerocool uses with the Xfire moves 52.25 CFM of air at 1500 +/- 10% RPM. The nice thing about using a 120mm fan is that decent airflow can be had without having to increase the noise level of the cooling solution. In the case of the Aerocool Xfire the noise level of the fan is 23.53 dBA at full load and was unable to be detected by our audio test equipment as the rest of the test system and ambient noise levels were louder than the fan.
Article Title:
AeroCool Xfire Heat Sink Fan Review
Article URL:
http://legitreviews.com/article/398/1/
Pricing:
Newegg