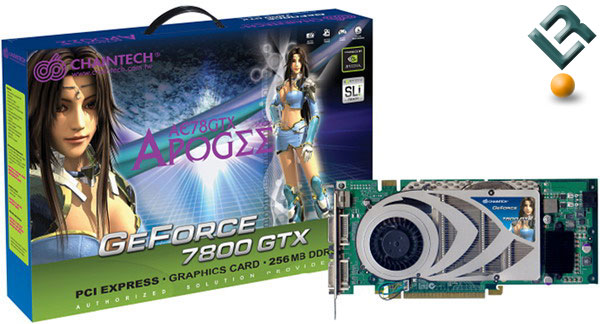 Today (June 21st , 2005) Chaintech launches the AE78GTX video card that features the just released nVidia Geforce 7800 GTX GPU. Meaning it provides the highest level of performance on today's games and applications needs from nVidia.
Chaintech AE78GTX is designed to run with a 256 bit memory interface in 256MB DDR3 SDRAM, which can provide 38.4 GB per second memory bandwidth. Chaintech AE78GTX offers 430MHz engine clock and 1200MHz memory clock (256MB), its highest performance and speed is certainly unequaled. Support NVIDIA SLI multi-GPU ready, the Chaintech AE78GTX provides dramatically scales performance by allowing two graphics cards to be run in a parallel. Even with only one AE78GTX, the high-resolution graphics is also a remarkable innovation in high-end video cards.
Chaintech AE78GTX possess CineFX™ 4.0 engine and the second generation of UltraShadow™ II technology enhances the performance of cutting-edge games, which feature complex scenes and multiple light sources; provides excellent graphics. The new generation Intellisample 4.0™ anti-alias technology full support for Microsoft® DirectX® 9.0c (Shader Model 3.0), Chaintech AE78GTX enables stunning special effects and delivers faster, smoother and crystal-clear 3D pictures. Chaintech AE78GTX supports HDTV-out and Dual DVI-I-out, with the NVIDIA ® Pure Video™ technology; Chaintech AE78GTX turns your PC into a high-end home theater in high definition with clear and resounding pictures.
The abundant accessories and software bundle such as WinDVD5 (6 Channel), WinDVD Creator 2, WinRip 2.1, Home Theater 2.1 Lite, Adobe Photoshop Album1.0 and 5 in 1 Game pack plus full version of Painkiller. Chaintech AE78GTX enriches the benefits for every user.