You may have purchased many songs from iTunes online store. It will be ok if you just play it on your computers with iTunes, or on your iPod. However, you may need to insert the music in a Power Point presentation, listen it on your mp3 player or set it as background music of your website or other legal personal usage, and you will find you are not allowed.
All the iTunes music files are m4p format, it's restricted. Is there any way to remove this DRM protection and convert the iTunes songs to widely used mp3 files?
There are some ways that can achieve your goal.
(1) In iTunes, these DRM protected songs can't be burned to mp3 CD disc, however, you can burn them to audio CD, and then use an audio ripper to rip the tracks from the CD. It may be a waste of CD discs when you have plenty of songs which need to be converted.
(2) Use the program named Noteburner. It has won the award of top DRM removing tool and the third place of audio converter by Top Ten Reviews, please refer to
http://audio-converter-software-review. ... views.com/
. Noteburner will install a virtual CD burner on your computer, what you need to do is just to set it as default CD burner in iTunes. Open iTunes, operate by Edit --> Preference --> Advanced --> burning, and set Noteburn Virtual CD_RW as your CD burner. If you want to preserve the tags information, including artist, song title, album name, track number etc, you need to check the option "include CD text". Not only m4p files can be converted, but also audio book in m4p format or AA format can be converted to mp3 in iTunes with Noteburner virtual CD burner.
So you can finish all the jobs as the first method within this software and save many CD discs.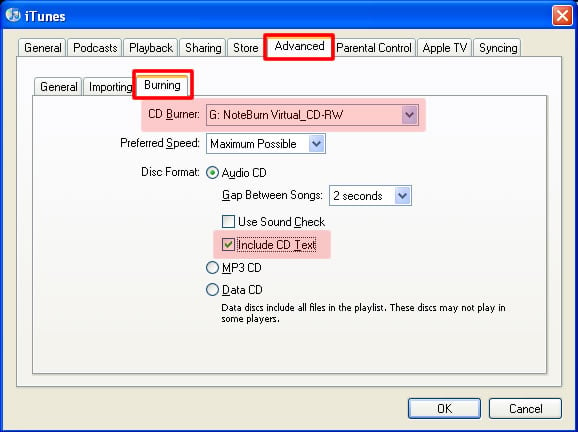 Noteburner can also remove the DRM protection of wma audio files. In this case, you need to use Noteburner with Windows media player, and what you need to do is the same as in iTunes.
(3) Use the program named Notecable. This program can also convert DRM protected iTunes songs and wma audio files. It works as a virtual sound card recording audio streams in background. The advantage of Notecable is that it's very easy to use. Click "add" button to add the files you need to convert, click "settings" button to choose output format, bitrate, output folder, then click "convert" button to start conversion. If you want convert at a faster speed, you can click settings button and adjust the "convert acceleration" bar.
(4) Use the program named Tunebite. It records the sounds with a real audio device, however, you need to import lame.exe to convert the files to mp3 files.