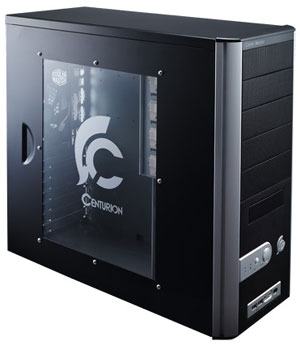 Cooler Master did a wonderful job with their tool-less design, both locking systems did a great job securing their individual components without issue and made installation a breeze. Cooler Master also made a very nice improvement to the front cover system. Their new design, with the individual covers secured by screws instead of plastic clips also ensures that your new case will keep its clean, undamaged look for as long as you own it.

Although Cooler Master did not use a removable motherboard tray, installation of interior components was a breeze due to a very nice and very clean layout. The Cooler Master Centurion 5 is a great looking case. The clear side panel is a nice touch, and adding a cold cathode light would highlight the Centurion logo quite nicely.
The full article can be found
here
!!