XFX GeForce 9800 GX2 1GB GDDR3 Video Card Review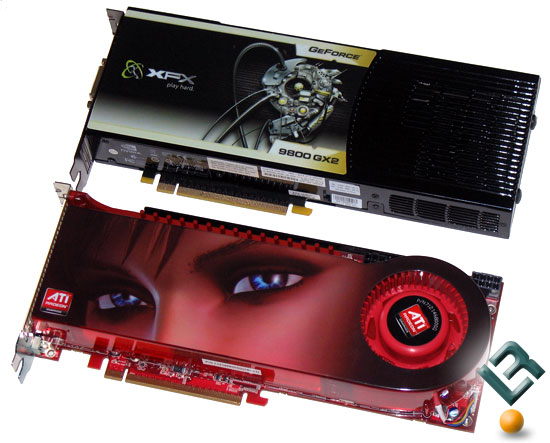 NVIDIA just launched the GeForce 9800 GX2 video card with a pair of 600MHz G92 GPUs, 256 stream processors running at 1.5GHz and 1GB GDDR3 memory operating at 2GHz. We have a couple XFX GeForce 9800 GX2 cards on hand and the performance numbers are very impressive. Read on to see how the GeForce 9800 GX2 does against a number of other video cards!
It's been nearly two years since NVIDIA has produced a dual PCB video card design and they feel they have a winner in the works with the GeForce 9 series. One of the reasons NVIDIA feels so strongly about the GeForce 9800 GX2 is because they have a whole new approach at how the video game frames are being rendered. The first generation Quad SLI technology seen on the GeForce 7950 GX2 back in 2006, used a hybrid mode of split frame rendering (SFR) and alternate frame rendering (AFR) to enable concurrent rendering on four GPUs. With the latest games utilizing complex shaders, inter-frame effects, and multi-pass rendering, SFR becomes less efficient.
Article Title: XFX GeForce 9800 GX2 1GB GDDR3 Video Card Review
Article URL: http://legitreviews.com/article/679/1/