PNY Verto GeForce 9600 GT Video Card
For roughly $150 the GeForce 9600 GT is one of the best price versus performance graphics cards on the street today. The card are looking at today is the PNY Verto GeForce 9600 GT and it features 512MB of GDDR3 frame buffer memory with a 650 MHz core clock. The PNY Verto GeForce 9600 GT is ready for PCI Express 2.0 motherboards and supports NVIDIA SLI technology. Read on as we compare it to an equally priced ATI Radeon HD 3870 512MB graphics card to see how it fairs.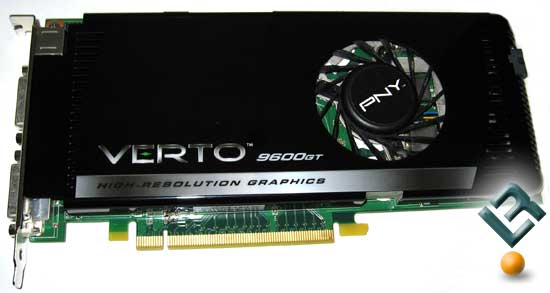 The PNY 9600 GT we've got here today is built to the reference specification set forth by NVIDIA. It has a standard G94 GPU with 505 million transistors, with a clock speed of 650MHz, Stream processor clock of 1625MHz, and 512MB of GDDR3 memory clocked up 1800MHz. It's fully SLI capable with another 9600 GT ( sorry fellas, no three-way action) and is PCIe version 2.0. We do see that an external 6-pin PCIe power adapter is required for the card to run, so it will be consume over 75W under full graphics load. To give you an idea how much you don't need to break the bank with a huge power supply, with an E8400 and P35 motherboard I was able to power this card with a 380W Antec Earth Watts without issue.
Article Title: PNY Verto GeForce 9600 GT Video Card
Article URL: http://legitreviews.com/article/720/1/
Pricing At Time of Print: $149.99 shipped