Two Kingston 40GB V Series Boot Drive SSDs in RAID 0
Today, we will be taking a look at the performance of two Kingston 40GB V Series Boot Drive SSDs. Two of these drives can be bought today for $115 each, which at $230. You can put them into RAID 0 and have a nice little 80GB data array. This is also slightly less expensive than a Kingston SSDNow M Series SNM225-S2/80GB drive as they cost $245.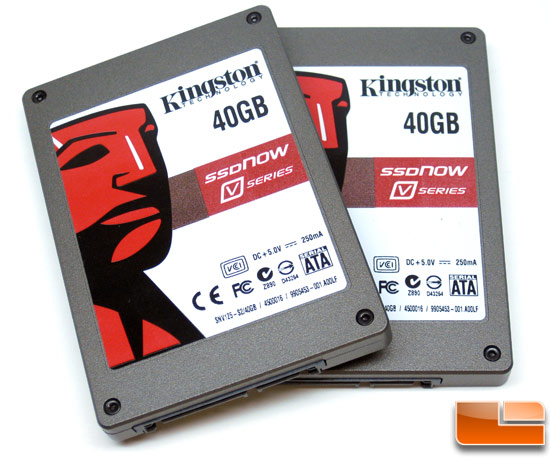 This review is a diamond in the rough as we were learning and rolling with the punches trying to get a RAID 0 array setup on a motherboard that featured SATA III 6Gbps. Our first big shock came when we found that the Marvell 88SE9123 controller that is used on the ASUS P7P55D-E Premium motherboard was not able to run a bootable hardware RAID array. The only thing thing that you can do to enable RAID on this SATA 6Gbps controller with two drives is to setup a standard windows software RAID configuration. This was the first time we used the disk management utility in Windows 7 to setup a striped array on a pair of dynamic disks. As you can tell, this method wasn't the best to benchmark the drives since physical disk benchmarks were not able to run on the array. By doing this review though we did learn numerous things that we would not have known otherwise. In the end we were still able to get a look some performance numbers as four of the benchmarks we used turned in solid performance gains.
Article Title: Two Kingston 40GB V Series Boot Drive SSDs in RAID 0
Article URL: http://www.legitreviews.com/article/1139/10/