AMD Athlon II X2 255 Dual Core 3.1GHz Processor Review
The AMD Athlon II X2 255 is the fastest dual-core processor in the Athlon II series with its overall clock frequency of 3.1GHz. With a street price of just $74.99 it will be interesting to see how this processor does in the benchmarks against other AMD and Intel processors. Read on to see how it performs in the benchmarks and to see how it handles being overclocked on our AMD 785G test system.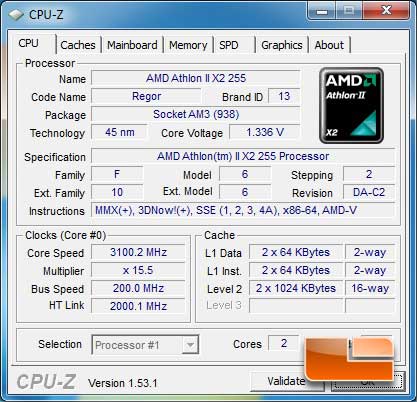 The AMD Athlon II X2 255 had a more than solid performance when putting through the paces today. It may not have performed as well as the Quad Core processors did, but keep in mind it is a dual core processor. When I ran the benchmarks on 1 core of each processor I was astonished to see the performance. The AMD Athlon II X2 255 was at or near the top of the list in those benchmarks.

Article Title: AMD Athlon II X2 255 Dual Core 3.1GHz Processor Review
Article URL: http://www.legitreviews.com/article/1200/1/
Pricing At Time of Print: $74.99 shipped at Newegg