AMD Turbo CORE Technology on Phenom II X6 CPUs
This morning we got word from AMD that they would be announcing some more details on AMD Turbo CORE technology, which will be found on select AMD Phenom II Processors. With the AMD Phenom II X6 processor series launching later this month we wanted to cover this new technology as all AMD six-core 'Thuban' processors will have Turbo CORE technology enabled by default.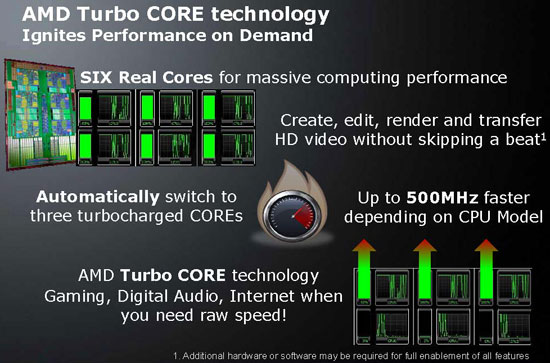 AMD's Turbo CORE is enabled on a six-core processor when three or more cores are not being heavily used. When Turbo CORE enables three of the processor cores get up to a 500MHz boost in performance, while the three at an idle state drop down to 800MHz. Turbo core mode doesn't disable Cool'n"Quiet, which means the cores can still throttle like normal. When Turbo CORE is enabled the increased voltage goes across all the cores, so no voltage gating is taking place on the remaining cores in an idle state. If you start using a multi-threaded application that calls for more than three physical processors then Turbo CORE disables and all six cores are run at the processors rated clock frequency.
Article Title: AMD Turbo CORE Technology on Phenom II X6 CPUs
Article URL:
http://www.legitreviews.com/article/1246/1/