Editorial: What's Wrong with the Apple TV?
In our previous Apple TV article, we un-boxed the A-TV and detailed what you would need to do to get your media files to play. Basically, once you have them in a 'container' that iTunes can understand (MP3, M4A) you would drop and drag them into iTunes so that they are visible to Apple TV. You have to convert non-iTunes-compatible files by using a third-party converters like Super and Handbrake to allow iTunes to catalog the media. Read on to hear Ken's thoughts on the latest Apple TV!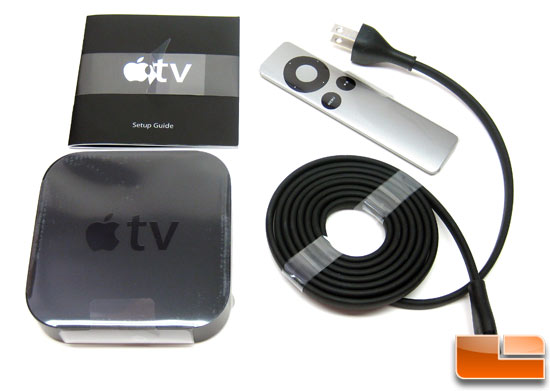 Apple, you really let me down. I hope your new OS update will include something that people want and will set you apart. Maybe include Hulu access and playback, or at least being able to watch the network streams of current shows instead of trying to gouge viewers by charging $1 for the latest episode of Glee…you know the same episode that I can watch for free anytime with a browser and laptop. I don't even like the Apple TV remote as it doesn't have TV volume, mute, or power so now I have to have my hands on at least two remotes when I'm watching a movie.
Article Title: Editorial: What's Wrong with the Apple TV? @ Legit Reviews
Article URL: http://www.legitreviews.com/article/1438/1/
Pricing At Time of Print: $99.99 plus shipping