Diamond, Sapphire & XFX AMD Radeon HD 6870 Video Card Roundup
Today we have a nice little roundup for you on a set of retail boxed AMD Radeon HD 6870 1GB GDDR5 video cards from Diamond Multimedia, Sapphire and XFX. Also known as "Barts XT," the Radeon HD 6870 had a successful launch and the retail cards are now out in force. Diamond sent over the Radeon HD 6870 XOC, which will be the first factory overclocked retail card that we have seen.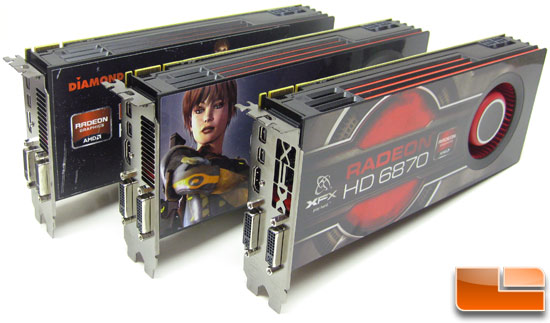 The three cards we have here today are based of the AMD Radeon HD 6870 reference design, but as you can tell they all have different stickers on the front of them. The Diamond Multimedia Radeon HD 6870 XOC that we will be looking at today is the first factory overclocked 6870 that we have gotten our hands on. Rather than coming with factory clock speeds of 900MHz on the core and 1050Mhz on the memory it comes at 940MHz and 1100MHz, respectively. It will be fun to see in the benchmarks how the overclock helps in gaming performance.
Article Title: Diamond, Sapphire & XFX AMD Radeon HD 6870 Video Card Roundup
Article URL: http://www.legitreviews.com/article/1455/1/
Pricing At Time of Print: $239.99 plus shipping