Corsair SP2500 2.1 232W Audio Speaker Kit Review
The Corsair Gaming Audio Series SP2500 high-power 2.1 PC speaker system is Corsair's first attempt at a desktop audio solution. Will their first attempt hit it out of the park or fall short and leave you wanting more? Corsair says this kit is perfect for not just for games, but for movies and music as well. Read on to see what the SP2500 is all about!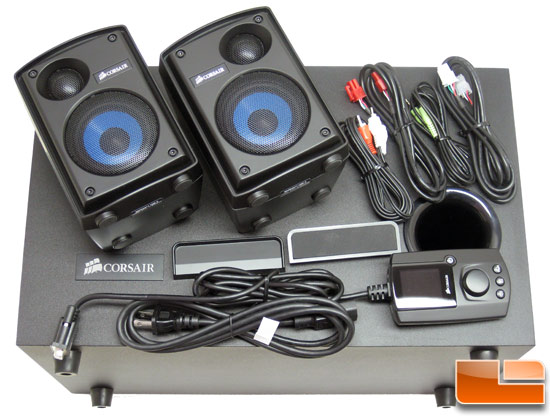 When the Corsair SP2500 2.1 PC speaker system showed up in the test lab, we hooked it up and were shocked to hear our music. We were able to hear details in the audio that we weren't able to make out on our old speaker system. The satellite speakers on the SP2500 are amazing and the midrange audio is crystal clear. Most audiophiles talk about sound separation and having bass that overpowers vocals and we finally get what they were talking about. The Logitech Z-5300 system that we were running appears to have had greatly exaggerated bass and as a result we were actually missing out on the clarity of our audio tracks...

Article Title: Corsair SP2500 2.1 232W Audio Speaker Kit Review
Article URL: http://www.legitreviews.com/article/1492/1/
Pricing At Time of Print: $235 shipped