NVIDIA Kepler versus Fermi in Adobe After Effects CS6
One of the new features in After Effects CS6, is native 3D ray-tracing using the NVIDIA CUDA engine. While Adobe After Effects CS6 has been out for nearly eight months, we were shocked to find hardly any benchmark results! Legit Reviews took a handful of NVIDIA GeForce GTX 500 Series 'Fermi' cards off the shelf and compared them to NVIDIA GeForce GTX 600 Series 'Kepler' cards. Read on to see which cards are best at rendering some 3D ray-traced videos!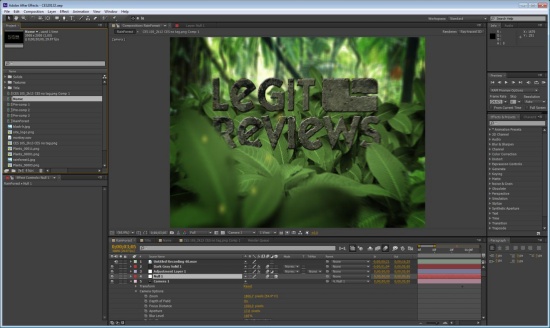 We recently made a new video intro based on an excellent tutorial from Video Co-Pilot for our CES 2013 coverage and figured that we'd update to After Effects CS6. We have tons of video cards laying around the test lab, so we figured that we would compare some of the NVIDIA GeForce GTX 500 'Fermi' and NVIDIA GeForce GTX 600 'Kepler' series video cards to see how they perform...
Article Title: NVIDIA Kepler versus Fermi in Adobe After Effects CS6
Article URL: http://www.legitreviews.com/article/2127/1/